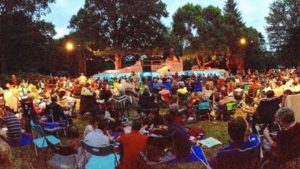 Meeting up with friends, spreading out a blanket, sitting in one of the city's scenic parks, maybe with a bottle of wine — for thousands of people each summer, this is the way to enjoy Shakespeare in New Haven.
For two decades, Elm Shakespeare Company has brought the work of the Bard to outdoor-theater lovers.
As it celebrates its 20th anniversary, the company is preparing for its latest performance. "Twelfth Night," one of Shakespeare's comedies, which will be performed Aug. 20-23, Aug. 25-30 and Sept. 1-6. All shows begin at 8 p.m. at Edgerton Park.
Elm Shakespeare's mission — "to offer accessible theater and innovative education experiences" — struck a chord with Elm City residents and visitors from its early days, says Elm Shakespeare Founding Artistic Director James Andreassi.
When the group first formed in 1995 and was putting on its first show, Shakespeare's "The Tempest," Andreassi said, "We were thinking if we could get 200 people a night them it'd be a great success."
The Crowd In The Park For Elm Shakespeare Company
When 1,000 people turned out to see the final performance of that run, "We thought 'Wow, we really hit on something,'" he recalls.
Andreassi is one of three people, along with set and lighting designer Jamie Burnett and sound designer Fred Santore, who have been with the company since its inception.
These days, while the company "has grown and expanded and contracted, given economic times," between 10,000 and 20,000 people see each show during a typical summer run, he says. "It's pretty incredible."
The shows are popular for several reasons, he says, including the company's policy of making them affordable. The group asks for donations, whatever someone wants to pay, at each show.
This Summer From Elm Shakespeare Co.: "Twelfth Night"
"If cost isn't a factor, people have a real desire to come together and watch theater," says Andreassi.
He also says the quality of the plays, combined with the venue or Edgerton Park, are major factors in their appeal.
"The shows are consistently good," he says. "The plays of Shakespeare are so compelling, so eternal, that people are drawn to them, and they lend themselves to being performed outside."
There is something special, he adds, about grabbing a picnic blanket and some friends to see an Elm Shakespeare show.
"People have an urge, a primal need, to gather as a community in outdoor spaces," he says. "There's something about being outside, part of a crowd that's partaking in something."
Elm Shakespeare plays an important role in the community, says Michael B. Rambarose, president and CEO of Whitney Center, a senior living community in Hamden that is the group's main sponsor.
"Throughout our 36-year history, Whitney Center has maintained a tremendous appreciation for the arts, primarily due to the fact that Whitney Center residents have been patrons of the Greater New Haven arts community for most of their lives," Rambarose says,
"The incredible production value of their [Elm Shakespeare's] sets and performances make for outstanding theatrical experiences for Shakespeare lovers and novices alike," he says. "Moreover, their commitment to keeping those experiences accessible, as well as their dedication to advancing interest in the performing arts, make them a much-appreciated partner in serving our community."
In addition to its annual production, the group also has a strong educational component, helping those who aspire to become actors. The company's most rigorous program, called the Elm Scholar Apprentice, gives seven weeks of pre-professional training in acting and technical theater. Participants work on the Shakespeare-in-the-park production, taking part in set-building, in the technical rehearsals and performances, and in advanced acting workshops.
In addition to acting residencies, other Elm Shakespeare educational outreach includes after-school programs offered in collaboration with community partners like LEAP and the Connecticut Center for the Arts and Technology. The company also offers a summer camp in collaboration with the Housing Authority of New Haven and the Quinnipiac Terrace community.
For ensemble members, Elm Shakespeare is more than just a job — it's a passion, says Andreassi.
"It's been the project that I've devoted most of my adult energy to," he said. "It's near and dear to my heart."